STB Real Estate Sponsor Berkshire Hathaway Home Services Northwest's Open House – set for this Saturday, Sept. 20 – is a North Hill Gem that has it all!
Bright and inviting, this home has room for everyone, with 5 bedrooms and an office for a single family or TWO complete units with separate entrances, full kitchens, bath and laundry. Tons of rental potential!
Huge fully-fenced yard with sunny patio overlooking fruit trees and plenty of grass.
Rear drive around access gate for boat or RV as well as carport, garage & storage shed.
Convenient location & walkable to parks & desirable North Hill Elem.
LOT A rights too..a must see!
Here are some pics (click images to see larger versions/slideshow):
Here are the details:
WHAT: Berkshire Hathaway HomeServices Northwest Open House
WHEN: Saturday, Sept. 20 from Noon – 3 p.m.
WHERE: 19021 8th Ave S., Burien, WA 98148
INFO:
List Price: $299,999
MLS Number: 695959
Bedrooms: 5
Bathrooms: 2
Year Built: 1953
Approximate House SqFt: 2,400
Approximate Lot SqFt: 10,956
Site Features:
2 Fireplaces
Dble Pane/Strm Windw
Hardwood
Laminate
Wall to Wall Carpet
Carport-Attached
Garage-Detached
Marketing remarks:
This North Hill Gem has it all! Bright and inviting, this home has room for everyone, 5 beds & office as a single family or TWO complete units with separate entrances, full kitchens, bath and laundry.

Tons of rental potential!

Huge fully fenced yard with sunny patio overlooking fruit trees & plenty of grass.

Rear drive around access gate for boat or RV as well as carport, garage & storage shed.

Convenient location & walkable to parks & desirable North Hill Elem. LOT A rights too..a must see!
Click here to see the full, detailed listing.
Click here to view all of Berkshire Hathaway's Open Houses.
The City of SeaTac on Wednesday (Sept. 17) issued the following statement in response to a recent report that the city ranks as the "7th most dangerous" in Washington state:
The City of SeaTac is offering perspective on the recently released report from LawStreetMedia.com which ranked the city as the 7th most dangerous city in Washington State.

The report bases its rankings on a city's resident population and calculates the crime rate score using a statistic known as "population grouping statistics". In fact, the report itself offers the following cautionary statement about the validity of this very basic ranking tool:

"Although the information is very important by itself, it is important to consider the context. There are several different factors that contribute to a city's total number of violent crimes, including but not limited to economic conditions, population density, climate, and education levels, as well as a number of issues with the uniform crime report itself."

For the City of SeaTac this statement is relevant, because, unlike most cities of less than 30,000 residents, the City is home to the Sea-Tac International Airport which serves nearly 100,000 people daily. The City has an employment base of over 40,000 jobs and is home to over 5,500 hotel rooms which provide 1.6 million room nights annually.

"We are more similar to a City with a population of 75,000 than we are to a city of comparable size without all of the other attributes that present issues unique to our community", said City Manager Todd Cutts. "Our 27,000 resident population doesn't reflect the daily boost generated by our International Airport, 69 hotels, mass transit and other businesses. As a City, we work to continually improve upon the services we provide. Having said that, we are proud of our crime prevention efforts and believe they have led to a safe community. The fact that over 3 million people on an annual basis continually choose to stay here for business and leisure travel is evidence of that fact."
[EDITOR'S NOTE: This column by Earl Gipson is a view of SeaTac city government. It does not necessarily reflect the views of The SeaTac Blog nor its staff. We are seeking additional regular columnists to reflect different opinions and views of SeaTac residents. Those interested can e-mail us at editor@seatacblog.com.]
by Earl Gipson
Summer's over so the Cactus's party must end and say a few words about our Council Meeting this last Tuesday.
Highline School District Begs for money (again)
The majority of the SeaTac City Council wants you to open your wallets wide again on behalf of the Highline School District. The Council passed a resolution (5-2) endorsing Prop #1 (bond measure) for the school district to the tune of $385 million dollars. They conducted a Public Hearing required for them to tell me/us how to vote.
I read the thing. The cost to taxpayers is nebulous and open ended (not to mention full of "feel good" stuff). Note the following from the bond measure: Section 4, second paragraph:
"Each series of the Bonds shall be issued as fully registered bonds; shall bear interest payable as permitted by law; shall mature within 21 years from the date of issuance of such series of the Bonds (but may mature at an earlier date or dates as fixed by the Board); shall be paid by annual property tax levies sufficient in amount to pay both principal and interest when due, which ANNUAL PROPERTY TAX LEVIES SHALL BE MADE IN EXCESS OF REGULAR PROPERTY TAX LEVIES WITHOUT LIMITATION AS TO RATE OR AMOUNT but only in amounts sufficient to meet such payments of principal and interest as they come due; and shall be issued and sold in such manner, at such times and in such amounts as shall be required for the purpose for which each series of the Bonds are to be issued, all as deemed necessary and advisable by the Board and as permitted by law."
In the Public Hearing, four Highline Citizens spoke against the School Bond measure and two persons for the measure. The against citing the money we have given them recently, their $700,000 PR budget, and leaking roofs do not require entirely new buildings. Those for the measure; one worked for the district and one seemed to volunteer for it what I could tell through the rambling discourse. Highline School Superintendent Dr. Enfield was in the audience but remained mum. The gist was some schools were getting 100 years old, poorly maintained (they also previously cut the maintenance budget), and a deluge of sob stories which the pro Council members added to when it came their turn to yak (and yak they did).
I don't have kids in the schools but I don't want them producing dolts either (not getting my wish right now). After doing some searching I found http://www.greatschools.org/cgi-bin/wa/district-profile/108#toc which rates our schools (hard to navigate but you'll get it). Have a look yourself and see if old buildings are the problem.
You Have Been Proclamated!
In the "I have nothing better to do" part of the meeting, un-elected Mayor Gregerson proclamated Gay Pride something, Diaper Week, and Day of Recovery. No one showed up to receive the Day of Recovery proclamation (must have been a rehab meeting). Gregerson photo ops all around for her 33rd legislative
campaign.
Un-Elected City Executive/Manager Actually Living in the City They Manage? Preposterous!
In New Business Council Member Fernald wanted to discuss the City Manager RCW's requirement to live in the City. The City Council can waive this by law but it does not seem it had ever been formally documented. Apparently Council Member Fernald wants the Executive to live in what they wrought (as do I and others) however, the intent was turned around by Council Member Tony Anderson, and with an additional motion the RCW requirement was waived by the Council (5-2, of course).
The DEA National Pharmaceutical Take-Back Day will be held at SeaTac City Hall on Saturday, Sept. 27.
The Federal Drug Enforcement Administration (DEA) and participating local law enforcement are coordinating a nationwide drug "take back" day on September 27 from 10 a.m. – 2 p.m.
This one-day event will provide residents with no cost anonymous collection of unwanted or expired medicines.
The State of Washington had 89 collection sites and collected 16,677 pounds of expired and unwanted medications last April–the second-largest collection of pharmaceutical drugs in eight Take Back events for the state.
"Your continued participation is appreciated," reads an announcement.
Why Take Back Your Meds?
All medicines that your family and pets use should be properly disposed of at a drug take-back program.
Medicine take-back programs are the only secure and environmentally sound way to dispose of leftover and expired medicines. Also, take-back programs:
Reduce access to medicines for misuse. Prescription drug abuse is the fastest-growing drug problem in the country. In Washington State 11% of teens use prescription medicines for non-medical reasons — a rate among the highest in the nation. Over half of teens abusing medicines get them from a family member or friend, often without their knowledge.
Reduce potential for accidental poisonings.
Unwanted medicines left in the home endanger our children, seniors and pets. Over half of the calls to the Washington Poison Center were for young children poisoned by medicines found at home. The elderly are also at risk of accidental poisonings and human medications are the leading cause of pet poisoning.
Reduce medicines in the environment. Don't flush! Don't trash! Flushing drugs send them into our waters. Throwing them in the garbage makes them available for others to take and use and can still get into the environment.
A new report released by LawStreetMedia.com that claims the City of SeaTac is the 7th "most dangerous" city in the state of Washington.
The study is based on data from the FBI's most recent "Uniform Crime Report" from 2012, and cities are ranked based on the rate of violent crime per 100,000 people.
SeaTac's "Violent Crime Rate" (per 100,000 people) was 559.59, just below Bremerton (583.25) and above Everett (456.71).
Worst-ranked (#1) Tacoma's violent crime rate was 796.96, while #5 Seattle's was 597.58.
These crimes include murder, rape, aggravated assault and robbery.
According to the website, the "average violent crime rate" for a city of this size (population between 25,000 – 49,999 people) – based on the FBI's population grouping statistics from the Uniform Crime Report – should be 300.
The state of Washington was ranked 30th "most dangerous" in the entire U.S., with the District of Columbia ranked as #1.
"In the summer of 2013, a group of professionals and students came together in Washington and New York to create a site for students, young lawyers, and everyone who's interested in law and public policy," reads LawStreetMedia's About Page.
Here's the full, corrected list (NOTE: the original report ranked Burien as #3, but that was based on the wrong population; we have revised their stats):
#
City

 

Violent Crime Rate

▼

Population

 

Violent Crime

 

Murder

 

Forcible Rape

 

Robbery

 

Aggravated Assault

 

1
Tacoma
796.96
202646
1615
12
93
486
1024
2
Lakewood
782.62
59416
465
1
39
108
317
3
Spokane
645.26
212163
1369
13
81
537
738
4
Yakima
605.87
93419
566
11
52
152
351
5
Seattle
597.58
626865
3746
23
119
1421
2183
6
Bremerton
583.25
39434
230
1
38
44
147
7
SeaTac
559.59
27699
155
1
30
69
55
8
Everett
456.71
105318
481
1
46
182
252
9
Kent
444.71
122102
543
2
68
194
279
10
Longview
421.26
37032
156
1
26
55
74
11
Burien
368.75
47000
267
2
44
95
126
12
Vancouver
355.82
166375
592
5
72
172
343
13
Walla Walla
348.09
32463
113
0
16
18
79
14
Auburn
343.4
72218
248
6
23
110
109
15
Federal Way
321.82
91978
296
3
43
106
144
16
Olympia
314.27
47729
150
5
45
37
63
17
Des Moines
304.37
30555
93
0
2
34
57
18
Pasco
304.05
63806
194
1
13
41
139
19
Renton
301.96
93722
283
2
27
115
139
20
Kennewick
297.51
76971
229
1
33
35
160
21
University Place
270.27
31820
86
0
10
19
57
22
Bellingham
266.13
82665
220
0
29
53
138
23
Puyallup
253.83
37821
96
0
18
36
42
24
Mount Vernon
243.95
32384
79
1
13
21
44
25
Spokane Valley
215
91164
196
1
31
67
97
26
Lynnwood
201.93
36647
74
0
5
36
33
27
Marysville
188.98
61381
116
2
16
36
62
28
Kirkland
183.11
50243
92
0
14
24
54
29
Shoreline
181.41
54574
99
3
23
41
32
30
Lacey
176.85
43540
77
4
6
9
58
31
Richland
163.81
50057
82
0
20
11
51
32
Lake Stevens
163.71
28710
47
0
4
18
25
33
Edmonds
140.36
40609
57
1
4
20
32
34
Bellevue
127.76
126022
161
2
26
67
66
35
Bothell
101.78
34389
35
1
7
8
19
36
Pullman
96.01
30206
29
0
5
3
21
37
Redmond
64.55
55770
36
0
8
11
17
38
Issaquah
57.43
31341
18
0
2
6
10
39
Sammamish
33.93
47158
16
0
7
1
8
Save the date fellow citizens: Tuesday, Sept. 30 at 7 p.m., for…

WHAT: A forum featuring the two candidates running for State Representative, District 33, Position 2.

WHERE: The Des Moines Library, located at 21620 11th Avenue South, Des Moines.

WHO: Mia Gregerson, the incumbent, versus the challenger, Jeanette Burrage.

Gregerson also serves as mayor of SeaTac.

Burrage has served previously in the Legislature, was a King County Superior Court Judge and is currently a Des Moines City Councilmember.
The event is free and open to everyone and anyone, and is sponsored by The SeaTac Blog and The Waterland Blog.
Questions will be taken from the floor, so bring your thinking cap!
Local public health officials are investigating a confirmed case of measles infection in a traveler who was at Sea-Tac Airport during the contagious period.
The traveler was likely exposed to measles outside of the United States.
What to do if you were in a location of potential measles exposure:
Most people in our area have immunity to the measles through vaccination, so the risk to the general public is low. However, all persons who were in the following locations around the same time as the individual with measles should:
Find out if they have been vaccinated for measles or have had measles previously, and
Call a health care provider promptly if they develop an illness with fever or illness with an unexplained rash between September 13th and September 27th. To avoid possibly spreading measles to other patients, do not go to a clinic or hospital without calling first to tell them you want to be evaluated for measles.
Before receiving the measles diagnosis, the traveler was at Sea-Tac Airport and the Courtyard Seattle Federal Way Hotel's restaurant, The Bistro. Anyone who was at Sea-Tac Airport or The Bistro during the following times was possibly exposed to measles:
Sea-Tac
Sea-Tac Airport, 09/06/2014, North Satellite Terminal, Satellite Transit Interterminal Train, and Baggage Claim, 8:10 p.m. – 11:30 p.m.
Federal Way
Courtyard Seattle Federal Way, The Bistro, 09/06/2014, 9:00 p.m. – 1:00 a.m.
If you were at either of these locations during the times listed above and are not immune to measles, the most likely time you would become sick is between September 13th and September 27th.
About measles
Measles is a highly contagious and potentially severe disease that causes fever, rash, cough, and red, watery eyes. It is mainly spread through the air after a person with measles coughs or sneezes.
Measles symptoms begin seven to 21 days after exposure. Measles is contagious from approximately four days before the rash appears through four days after the rash appears. People can spread measles before they have the characteristic measles rash.
People at highest risk from exposure to measles include those who are unvaccinated, pregnant women, infants under six months of age and those with weakened immune systems.
For more information about measles, a fact sheet is available in multiple languages.
Measles vaccination schedule
Children should be vaccinated with two doses of the Measles Mumps Rubella (MMR) vaccine. The first dose should be at 12 through 15 months of age, and the second dose at four through six years of age. Infants traveling outside the United States can be vaccinated as early as six months but must receive the full two dose series beginning at 12 months of age; more information is available at the Centers for Disease Control and Prevention (CDC) website.
Adults should have at least one dose of measles vaccine, and two doses are recommended for international travelers, healthcare workers, and students in college, trade school, and other schools after high school.
For help finding low cost health services, call the Family Health Hotline at 1-800-322-2588.
Local favorite – a huge 12th Man Seahwaks flag – was recently stolen only after a few short days on display from a home near Angle Lak in SeaTac.
Here's more from Clyde Hill:
The other night as I met with the Mays to talk about plans for the upcoming new ALSC Christmas Tree Lighting Event, I asked Rodger why he had taken down his iconic '12th Man' flag? His response was troubling – Rodger informed me that someone had stolen it!

He went on to explain that due to the damage left behind he was led to believe that someone climbed onto his fence to take down and remove the 18' x 25' flag – Yes, that's right – eighteen feet by twenty five feet! It is an exact copy of the flag that is on display at Century Link Field in Seattle.

It is perplexing to me to consider how someone, on a busy main thoroughfare like South 188th Street, could even have the ability to climb up, straddle a flag pole to take this gigantic flag down, fold it up and cart it off down the street without ever being seen? And that is where I'm hoping one or more of you may have witnessed some activity related to this crime!

If you happened to have been in the area of 42nd Ave South and South 188th Street on Sunday, September 7th between the hours of 9 pm and Monday 6 am and have any information relating to this crime, please contact Rodger May. Any information leading to an arrest and/or recovery of the flag will be rewarded.

I'm hoping the power of the REAL 12's can pull together to recover this flag and get it flying again in it's rightful spot – showing everyone that the Spirit of the 12's is strong here on Angle Lake!
If you have any information on this stolen icon, please email anglelakesc@gmail.com.
STB Real Estate Sponsor Berkshire Hathaway Home Services Northwest's Open House – set for this Sunday, Sept. 14 – is the first re-sale in Westwood Ridge of a 3-bedroom, 2.75 bath home!
Just like new, this two-story home offers plenty of natural light with nine-foot ceilings throughout.
The main floor living space is an expansive open area that encompasses a designer kitchen, dining room and great room.
The Master bedroom is complete with a 5-piece master bath.
This home has 2.75 baths and a three-car garage, as well as Lot A Beach Rights to the Cove in Normandy Park!
Located in Westwood Ridge – a new 16-home development – this home has a large lot and fenced back yard, and is located minutes to downtown.
Here are some pics (click images to see larger versions/slideshow):
Here are the details:
WHAT: Berkshire Hathaway HomeServices Northwest Open House
WHEN: Sunday, Sept. 14 from 11 a.m. – 2 p.m.
WHERE: 486 S. 187th Lane, Burien, WA 98148
INFO:
List Price: $549,950
MLS Number: 690841
Bedrooms: 3
Bathrooms: 2.75
Year Built: 2014
Approximate House SqFt: 2,910
Approximate Lot SqFt: 7,138
Site Features:
Bath Off Master
Dble Pane/Strm Windw
Dining Room
Loft
Vaulted Ceilings
Pantry
Walk-in Closet
Marketing remarks:
First Resale in Westwood Ridge! Just like new!

This home offers plenty of natural light & nine-foot ceilings throughout.

This two-story home has 2.75 baths,a three-car garage. The main floor living space is an expansive open are that encompasses a designer kitchen, dining room & great room.

Master bedroom is complete w/ a 5-piece master bath.Lot A Beach Rights to the Cove – Puget Sound!

Located in Westwood Ridge (New 16 home development) Large lot & fenced back yard & located minutes to downtown.
Click here to see the full, detailed listing.
Click here to view all of Berkshire Hathaway's Open Houses.
REMINDER: Enjoy all things British this Saturday at the first-ever English Fete at St. Luke's Episcopal Church in Renton, from 11 a.m. – 4 p.m.
"Drawing on our Anglican roots, St. Luke's inaugural church fete will offer sales of traditional English foods such as Banger's & Mash, Shepherd's Pie and Ploughman's Lunch, English beers and sweets, classic English carnival games, music and fun for all ages," reads an announcement.
The event will be anchored by festive performances by Seattle's own Sound and Fury Morris dance troupe: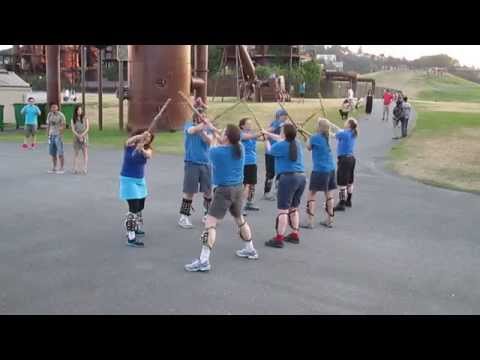 All proceeds benefit the operation of St. Luke's and their many community ministries including, ARISE, an interfaith traveling homeless shelter for men, St. Luke's Community Garden whose bounty is shared with Renton's needy and warm-up breakfasts on various weekday mornings.
Admission is FREE and open to all (please contact info@stlukesrenton.org for special accommodations or information).
Pip! Pip! Cheerio! let's all go to the Fete!
St.Luke's Episcopal Church is located at 99 Wells Ave So in historic downtown Renton, WA 98057 Ph. (425) 255-3323
Directions:
From Burien via SR-518/I-405 North
Take Exit 4 toward WA-900 W/Bronson Way
Turn right onto WA-169 N
Turn Right on Bronson Way N.
Turn Right on Wells Ave S.
St. Luke's will be on the left (pic below for reference).
From Bellevue area via I-405 South
Take Exit 4 for WA-900 W toward WA 169 S/Renton Enumclaw
Merge onto Sunset Blvd N
Turn Right on Bronson Way N.
Turn Right on Wells Ave S.
St. Luke's will be on the left.
More info here: http://stlukesrenton.blogspot.com/p/events.html