Port of Seattle Commissioners this week approved their 2021 budget and five-year, $3.7 billion capital improvement plan to support an "equitable, rapid, and lasting recovery." 
The Port says that this annual budget prepares it for a transformative year in 2021, as it opens the new International Arrivals Facility and completes work on the North Satellite at Seattle-Tacoma International Airport.
The Port will also complete the first phase of a modernized international maritime shipping facility at Terminal 5, a project funded jointly by the Port of Seattle and Port of Tacoma through the Northwest Seaport Alliance.
"Sticking to our core mission is the best way the Port can respond to the COVID-19 crisis and build an equitable recovery," said Port of Seattle Commission President Peter Steinbrueck. "This budget invests in the most fundamental lines of business at the Port, work that no other government in the region is set up to do, to help our community survive this crisis and thrive in the coming recovery."
"Even as we manage the uncertainty of COVID, we are steering our way towards a positive and transformative year," said Executive Director Steve Metruck. "Tough economic times forced us to focus our investments to deliver the greatest impact. We will come out of this pandemic stronger, more resilient, and more aware of how we can address inequity in our region."
Here's more from the Port:
The annual budget prioritizes investments that create jobs and drive economic activity, as well as strategies to stop the spread of COVID at the Port's critical trade and travel facilities. Sustainability projects that restore habitat and reduce carbon are key investments, as they generate both jobs and economic activity, as well as long-lasting community benefits. The Port increased economic development and environmental grant investment in South King County, where communities and industries have been hard hit by COVID-19.
Capital Improvement Plan Highlights
Capital projects make up the largest category of Port spending, approximately 35 percent of the organization's use of funds. The Port's 2021-2025, $3.7 billion capital improvement plan invests in projects to preserve assets, improve customer service, expand economic activity, generate additional Port revenue, and reduce environmental impact.
The Aviation Division plans to spend $3.3 billion over five years on airport improvements. Major and high-profile capital project highlights include:
The new International Arrivals Facility; the second phase of the North Satellite, Main Terminal improvements in ticketing, bag check, and security checkpoint areas; a multi-story expansion with amenities and tenant space on the C concourse; and accelerated installation of noise insulation for residential neighbors.
The Port's Maritime and Economic Development Divisions plan major environmental and economic development improvements. Project highlights include:
COVID-19 safety measure installations for cruise terminals; habitat restoration project at the Duwamish River People's Park, the most significant habitat restoration project on the Duwamish River in the last decade; a project to bring clean electric shore power to the Pier 66 cruise terminal; updates to the commercial fishing berths 6 & 8 at Terminal 91; development of a new Maritime Innovation Center at Fishermen's Terminal; and design for upland maritime industrial development at Terminal 91.
In 2021, the Northwest Seaport Alliance, the joint venture with the Port of Tacoma that operates international cargo facilities in both harbors, will open the first phase of its modernized Terminal 5 in West Seattle. The new big-ship ready terminal will stand out as one of the premier international maritime shipping container terminals on the West Coast, anchoring maritime jobs and global shipping in our community for decades to come.
Operating Budget Highlights
The Port's 2021 budget supports safe operation of our gateways, expands economic opportunity, and improves the sustainability, equity, and resiliency of our communities. The Port spends 29 percent of its funds on operating expenses. Highlights of operating budget initiatives include:
Increase programs to protect health and safety of the public and employees at the airport and all Port facilities; open and operate the new International Arrivals Facility and Phase 2 of North Satellite Renovation; improve airport customer experience by expanding checkpoint queue management, international arrivals support, and ground transportation support services; continue purchase of renewable natural gas to heat the airport and fuel the bus fleet; support maritime innovation initiatives to discover, promote and help advance promising maritime ventures and startups; continue to invest in workforce development programs and partnerships including high school and college internship programs to increase opportunities for local students; launch a Port-wide effort to identify and eliminate sources of racial bias in the workplace and conducting an equity assessment of the Port of Seattle police department
The budget reduces expenses, including freezing pay for all non-represented employees and freezing or eliminating 167 full time positions in 2021, equal to approximately eight percent of the Port's workforce.
Operating revenues for 2021 are forecasted to be down 16.1 percent to $680.9M
Operating expenses are forecasted to be down 10 percent to $422.7M
Net operating income is forecasted to be down 24.5 percent to $258.2M
The Commission directed the Executive Director to set aside $7 million of the 2021 General Fund balance to be designated for "Emergency Fund" for unforeseen or adverse economic impacts, in particularly for impacts on Port operations related to the COVID-19 pandemic. This contingency provides an added layer of security to respond if the downturn continues beyond what is reasonably expected.
Sources of Funds
Proceeds from bond issues and operating revenue make up nearly 80 percent of the Port's sources of funds.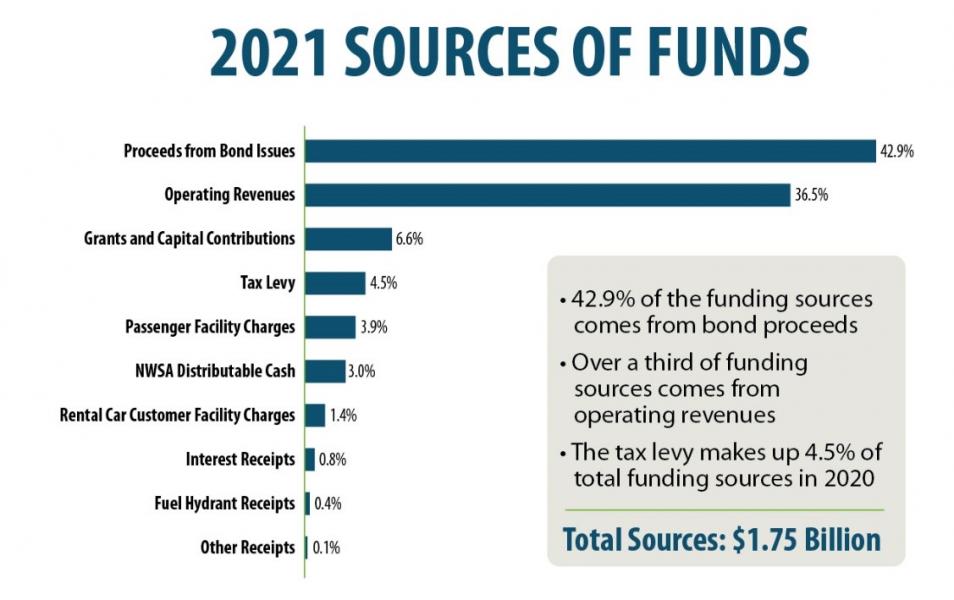 Property Tax Levy
Expanding economic opportunity and community development takes on an even more important role in today's economic crisis. The Port will commit $13.5 million to community programs in 2021.
Highlights include:
Commissioners increased the South King County Fund's 2021 spending allocation from $1.5 million to $2 million to support direct investment in small business development and to support programs that provide economic stimulus in partnership with local communities in South King County.
Commissioners also approved an allocation of up to $250,000 to evaluate the feasibility of partnering with King County and other regional partners on converting regional Municipal Solid Waste to sustainable liquid fuels, including on-road, maritime, and aviation. In 2019, the Port funded WSU to identify potential feedstocks to produce Sustainable Aviation Fuel (SAF). The WSU found Municipal Solid Waste (MSW) to be the most readily available sustainable feed stock in the region. Highlights of: community programs fully or partially funded by the levy include:

South King County Fund environmental and economic development grants
Duwamish Valley Community Equity Program
Orca Recovery Program
Low Carbon Fuel Standard support
City of SeaTac community relief
Economic development programs in tourism, workforce development, maritime innovation, and Diversity in Contracting
As a public Port in Washington, the Port may exercise a limited property taxing authority to convert public investment into public good. The Port continues to maintain a low rate of the levy by maximizing operational revenue, fees, and bonds.
Executive Director Metruck's 2021 budget continues the five-year strategy begun in 2018 to increase the levy by less than $2.00 per year for the median-valued home. This strategy allows the Port to build up investment capacity for future strategic investments.
For 2021, the planned levy increase is $1.58 for the median valued home. Less than 2 percent of the King County property tax payment goes to the Port. The Port leverages every dollar of tax levy to secure $10 of bonds, which is why a small levy can provide significant funding for investments.
The airport operates without any tax revenue. Funding for SEA comes from fees, rents, or leases in place with airlines, tenants, and travelers. Additional resources related to the Port's 2021 budget, five-year capital improvement plan, and how SEA is funded can be found on our 2021 Budget webpage.